How to Get Your OSHA Card
Getting your OSHA 10 card.
Any student who successfully completes a CareerSafe OSHA 10-Hour course will receive an Industry Recognized Credential from CareerSafe, which includes a Federal OSHA 10 Wallet Card from the Occupational Safety & Health Administration, OSHA.

Once a student has completed a CareerSafe OSHA 10-Hour Course, that student's Federal OSHA 10 wallet card will automatically and immediately be processed. Your OSHA 10 card will take about 6-8 weeks to be shipped by mail to the address of the school or institution you are enrolled in. Either your teacher or administrator will be responsible for distributing your card to you.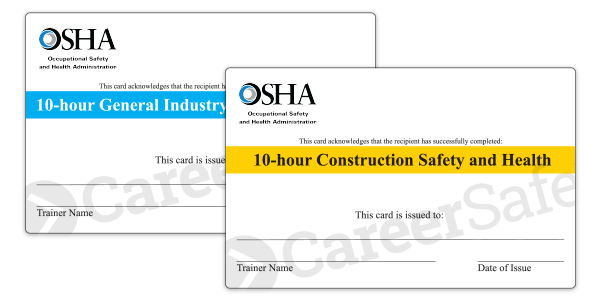 The course completion certificate.
Even though Federal OSHA 10 Cards typically take about 6-8 weeks to ship, students who successfully complete any CareerSafe course have immediate access to the course completion certificate. It is recommended that you print your course completion certificate as soon as you receive it, as a backup unofficial credential until your OSHA 10 card arrives. Many organizations and employers will consider this completion certificate valid initially until you receive your card.
If you did not print your certificate upon course completion, and would like to print it now, follow these steps:
Navigate to the CareerSafe Campus and login with your unique student credentials.
Under the tab "Courses I Am Taking," and select your course.
In the navigation side bar on the left, click the tab called "Certificate."
From here you can view and print your Course Completion Certificate for your specific course. (If you cannot access the tab, you have additional course requirements you must complete, which could include unfinished modules, not enough seat time, or unsubmitted course feedback survey.)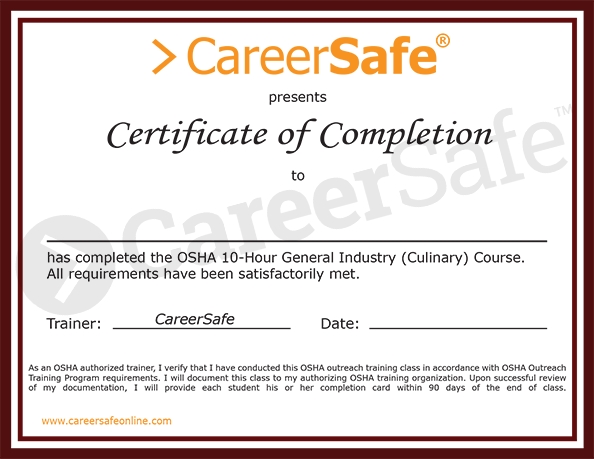 The digital badges.
When a student completes any course, they will also receive a Digital Badge. A digital badge is a trophy that can be digitally displayed on any platform, such as social media. While digital badges do not typically hold any credential value, they are a great way to boast your achievement online or add to a resume or LinkedIn profile. To find your digital badge trophy case, follow these steps:
Navigate to the CareerSafe Campus and login with your unique student credentials.
Click the "Your Account" link at the top right of your screen.
Select "My Badges"
From here, your digital badges will display. If you see no badges, that indicates you have not yet fully completed a CareerSafe course.